JK Rowling, Happy Birthday.... and Harry, too!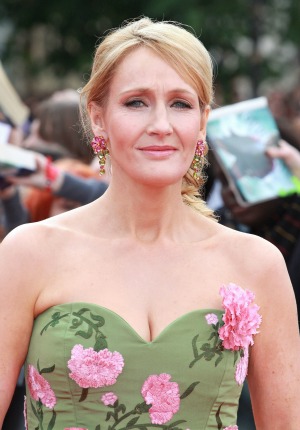 Happy Birthday to
Joanne Rowling
!
Her birth changed my imagination and pretty much my life. She brought the world a
wonderful world of characters and places and LIFE
! She has allowed me to let my geek flag fly. Well, one of them. And PROUDLY.
I started reading the Harry Potter books at 17 in High School. It was recommended to me by my English teacher, Professor Boyle. He said he thought I'd like it. I pretty much fell in love. I read them over and over again. That summer, I worked at a educational children's toy store and was able to run the Harry Potter themed events. It was pretty amazing. I attended midnight sale events and was finished reading the books within a day or so from release. I laughed and cried, a lot. I got nervous and anxious and still do! It was THAT amazing.
I'm lucky enough to have an amazing boyfriend who took me to an amazing place last year. HOGWARTS! Actually, he put me in a plane that flew us to Florida that happens to have a city called Orlando. From there we had an amazing vacation at
WDW
and
HOGWARTS
Universal Studios Orlando, but mainly
The Wizarding World of Harry Potter.
It was amazing and wonderful! Approved by JK and perfect in every way.
Happy Birthday to JK Rowling and THANK YOU for being you. Looking forward to what the
future
holds!
Cheers!
*i